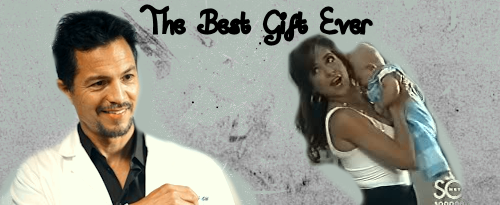 Title:
The Best Gift Ever
Fandom:
(crossover) General Hospital/Private Practice
Pairing:
Jake Reilly and Sam McCall
Word Count:
1,761
Summary:
Jake doesn't think Sam is a bad mother; he doesn't think she's damaged either.
Author's Note:
If crackships can be OTPs, Jake/Sam are mine!
Current Music:

Everytime - Janet Jackson
Title: Competition
Fandom: General Hospital
Pairing: Johnny Zacchara and Kristina Davis
Word Count: 100
Summary: Johnny's jealous of the competition.





snowflake_challenge
Awesomesauce! I am loving this. And now for today's assignment...
(
pimpage
Collapse
)
Wow can't believe its already Day 6 of the
Title: Salvation
Fandom: General Hospital
Pairing: Johnny Zacchara and Kristina Davis
Word Count: 100
Summary: Johnny's about to go on the run after confessing to all of his myriad crimes but sharing a kiss with a certain brown-haired beauty stops him in his tracks.
Author's Note: Wrote this in response to a challenge. I hope you all like it!



Current Music:

Falling into You - Celine Dion

snowflake_challenge
(
wish I may, wish I might
Collapse
)
In your own space, create a list of at least three fannish things you'd love to receive, something you've wanted but were afraid to ask for - a fannish wish-list of sorts. Leave a comment in this post saying you did it. Include a link to your wish-list if you feel comfortable doing so. Maybe someone will grant a wish. Check out other people's posts. Maybe you will grant a wish. If any wishes are granted, we'd love it if you link them to this post.

1. Wow so hard to pick but I'd love to receive a manip of one of my dream couples on General Hospital.
2. I'd like someone to write and dedicate a short fiction to me about Gina Kincaid from Beverly Hills 90210 and one of her guys.
3. Most of all, I would love people to sign up for the
[Unknown LJ tag]
fandom charity auction. I would love you all forever. The auction is coming soon and we have very few items up for bid :(
</div>
I just love this challenge thing-a-madoo! Check out the
The Passions fandom in general is so quiet these days, wouldn't you agree? We really need something to get people writing about Passions again - or heck, even just talking about it! The admins of A Passion for Passions (
[Unknown LJ tag]
) invite you to join in our "Passions Valentine's Challenge".

What's it all about? Simple. It's just what it sounds like - a challenge about the crazy, funky, wild and romantic goings-on, on that festive day of February 14th in our favorite little burg, Harmony. The fic should be no longer than 5,000 words and should be a one shot. You should submit it on Valentine's Day, 2013, to our little Dreamwidth Community. There are so many things to write about (ie. someone learning the identity of their secret admirer; spending the day with their new lover; reuniting with an old lover, et al). Let's just get writing! Come on over to the community and sign up to join The Challenge.


A PASSION FOR PASSIONS VALENTINE'S DAY CHALLENGE

(The signup thread)

So there is this nifty little community here at DW that I think everyone should check out called

snowflake_challenge
.
There is a fandom-related challenge every day for 15 days in January. I just happened upon it this morning and got all excited inside. The first challenge is to recommend at least 3 fanworks that I've created that I am proud of. I am not proud of much of my stuff to be honest - especially stuff from 2012 (it was a sucky year; let's be honest; TG it's over!) but if I had to dig up 3 fics I liked writing and am basically proud of, they would be ...


(
check it out!
Collapse
)
Here is a list (so far) of what I am donating for the Help Animals charity auction. If any of these sound like something you'd like to purchase for charity, please check out the community here:

helpanimals

Alternately, if you want to donate your time and talents to the cause instead, that will rock too!


Items:
5 new, homemade knit beanies (sold seperately)

Box set of 4 new "Private" novels by Kate Brian
Fan fictions:
Auction #1 - any couples/characters from the fandoms I know best

Auction #2 - General Hospital pairings (specific pairings such as Sam/Jason, Brenda/Sonny, Elizabeth/Lucky, et al)

Auction #3 - The Vampire Diaries (specific pairings being Stefan/Elena and Matt/Caroline)

Auction #4 - A 5-chapter Grey's Anatomy fiction with any pairing(s) of your choice


This could raise a lot of money for the ASPCA so please check out the deets and contribute somehow.
Animals in pain need your help today!
Current Music:

Water from the Moon - Celine Dion
Title:
Life-changing
Fandom:
General Hospital
Pairing:
Lucky Spencer and Claudia Zacchara
Word Count:
375
Summary:
Claudia has some news.
Author's Note:
Greg Vaughan is Lucky in this.
(
are you going to find me?
Collapse
)